Meet Mr. Blue


Mr. Blue is a Canadian 1990 Miata that made his way to Norway from my garage. Espen Tandberg, the proud father, is slightly excited about this whole thing, so here is Mr. Blue's photo album. This will also expand into the story of how this came to happen, what needs to be done to bring a Canadian car into Norway, and anything else we feel like putting up. Espen's also got his own version now, with larger versions of most of the photos.
It's quite interesting shopping for a car for someone who's 6 time zones away. We eventually managed to find one that fit the bill - Mr.Blue, a 1990 with only 35,000 km sitting at a Dodge dealership. Essentially stock, the only modifications were the front and rear air dam. The photo at the top of the page was taken right when he arrived at his temporary home, where he would undergo a makeover. That's Baby beside her in both pictures.
The Makeover - before shipping out, Mr. Blue gained the following equipement:
Crazy Red Italian leather seats, with blue stitching and a blue Miata.net logo on the headrest.
Jackson Racing sway bars
Skip Cannon's custom subframe brace
Racing Beat front subframe brace
Flying Miata shock tower brace
NGK plug wires
blue gauge faces and stainless steel surround from Wiz
....and last but not least:
A hardtop. It's hard to find a used hardtop, especially in the late fall in Canada. They're all quite solidly attached to cars. We tried putting Baby's on - not so good. One was finally tracked down an hour away, but it was the wrong colour. Finally, though - we got to see a Smurf Blue Miata with a white hardtop!. Within a day, it was off to the paint shop. If you recognise the plates, don't tell anyone...
Finally, the day came to send Mr. Blue off. Of course, the weather was awful for the first part of the drive, so he got filthy. He lived in my garage for about a month, and I grew quite fond of him - as did Baby. I think Espen's going to be pretty happy, though.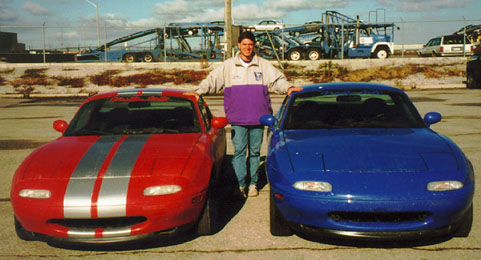 Keith Tanner
Jan 07, 1997
---